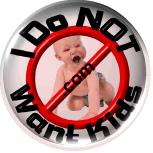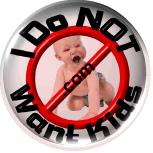 UPDATE about IdoNOTwantKids.com
This website was down for about 2 weeks due to the hosting provider (GoDaddy) upgrading their equipment causing this site to no longer work. GoDaddy couldn't figure out a solution even though they caused the problem.
I was NOT going to re-open this site because I couldn't figure out the problem nor could GoDaddy. Similarly, over the past bunch of years, I primarily received criticism and negative feedback and a total of about $20 in donations
(which doesn't even cover the cost of the domain name, let alone monthly hosting).
Please understand, this site is 100% FREE and costs me money to run every month.
While the site was down, several people went out of their way to track me down and inquire. Several even THANKED me because that is how they met their spouse and ended up getting married.
They suggested I re-open the site to continue helping others.
Hence, based on their requests, I decided to spend the money and I hired a programmer to fix the problem.
IdoNOTwantKids is up and running again. :)
If possible though, I'd really appreciate if folks could make a donation.
Even if it is $1.00 a person, that would help and keep me motivated to keep the site going/pay bills.
I refuse to charge a fee to use the site as I created it to help the CHILDFREE community. It remains 100% FREE.
Here is a link on paypal to make a $1.00 donation:
Christopher Puzzele is my name which explains where the paypal payment is going.
* OR *
Click the below link to proceed to the IdoNOTwantKids.com website: