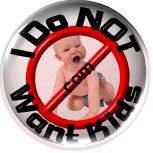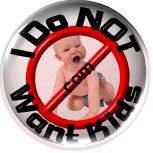 UPDATE about IdoNOTwantKids.com
I have (possibly temporarily) shut down this 100% FREE dating website devoted 100% to the childfree community.
Over the past bunch of years, I primarily received criticism and negative feedback.
To make matters worse, it costs $$$ to run the site (i.e. hosting, domain, etc.)
I just purchased four (4) years of hosting from a new company (GoDaddy once again increased their prices excessively so I switched companies). However, I can't figure out how to successfully transfer the site to the new host and must hire somebody that is more tech savy with this stuff than me. Accordingly, unless I receive $400 in donations, I might just keep the website shutdown or possibly do something else with it.
Thank you to those who supported the site over the years. It did result in several successful marriages. :)
Here is a link on paypal to make a donation:
Christopher Puzzele is my name which explains where the paypal payment is going.

You can contact me directly or send a paypal donation to me at my email: PUZZELE @ Gmail . com
.

*
*